NEXT EVENT – THE SOUTH OF FRANCE
A Photographic Journey from the Pyrenees to the Riviera
Friday 12th May
A presentation by Michael Bunn.
Wine with Mediterranean refreshments during the interval.
7pm, Welwyn Civic Centre
2017 EVENTS POSTED
Visit our Events page for a full list our 2017 events.
2016 TWINNING PHOTOS
A slideshow of the 2016 Twinning Weekend is now online – click here to view it.
WELL DONE WAFTA!
Congratulations to the Welwyn Twinning boules team who triumphed in the recent Inter-Twinning Boules Tournament, held at the Station Pub in Kebworth. We are proud that the cup has returned to Welwyn once again.
SPREADING THE WORD ABOUT WAFTA
Thanks to all the members who turned out recently to help promote Welwyn Twinning at a number of local events, including Welwyn Street Festival Market and Le Welwyn Petit Tour Cycling Event. As usual we offered the opportunity to try your hand at boules, as well as a raffle, a French food and drinks competition and a Name the Teddy Bear competition which was popular with children.
Congratulations to Nigel Thomas of Oaklea Close who won a bottle of wine in the French Food and Drinks Competition and Phillip Lilley who won Pierre the teddy bear, both at Welwyn Festival Street Market. Closer to home, well done to our own WAFTA member Bryan Andrews who scooped a bottle of wine in the French Food and Drinks Competition at Le Welwyn Petit Tour.
Our efforts were not in vain as we attracted some new members and raised funds for the Twinning Association. We also generated considerable interest in next year's cycle ride to Paris (via Champagne of course!).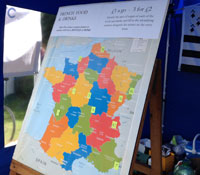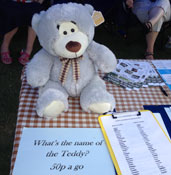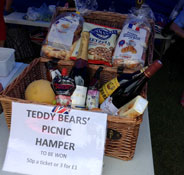 Twinning Weekend 2016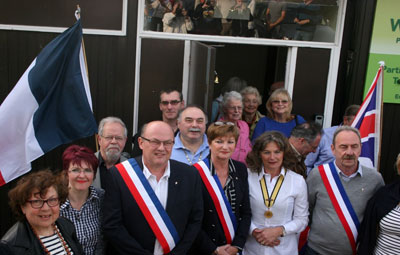 Welwyn Twinning recently welcomed a group of visitors from Champagne-sur-Oise, including nine fire-fighters who made the journey by bike. Read Vernonne Allen's report on the twinning weekend and click here to view a slide show of the weekend.
About Welwyn Anglo-French Twinning
Welwyn is twinned with a village in France, Champagne-sur-Oise, and the Welwyn Anglo-French Twinning Association (WAFTA) actively encourages and fosters a warm entente cordiale between the residents of both villages and the surrounding areas.
The main similarity between the two villages is their geographical position from their respective capitals: Welwyn is 25 miles (40km) north of London and Champagne-sur-Oise is the same distance north of Paris. Just as Welwyn is close to the A1(M) and to the main railway line into London, Champagne has nearby motorway links to Paris and Calais (A16) and a rail service to Paris, Gare du Nord – just change platforms for Eurostar. In addition, Charles de Gaulle airport serves the district.
The history of the Welwyn Anglo-French Twinning Association is an interesting one. The twinning started in 1973 as a result of a visit by the then headmaster, Kit Trevena, and pupils of St Mary's School, Welwyn, who went to Champagne-sur-Oise and set up a cultural association that has flourished ever since. This has been with the help and support of the Mayor of Champagne-sur-Oise and Welwyn Parish Council.
Welwyn Anglo-French Twinning Activities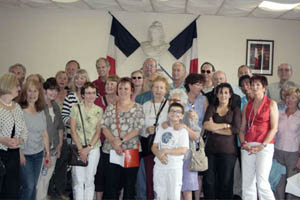 On alternate years, normally in May/June, residents of one village visit the other for a long weekend and are entertained and hosted by their counterparts.
Special activities for children are often arranged as part of this visit.
Other social, cultural, educational and sporting visits are arranged from time to time. This is something which the Association would like to develop further and may be able to offer some financial assistance.
WAFTA also organises a full programme of events – talks, wine tasting, quiz nights, boules matches – to raise funds to contribute towards entertaining our French friends in alternate years and generally supporting its aims.


What People from Welwyn have Enjoyed about Twinning Visits to Champagne-sur-Oise
Some comments from our members: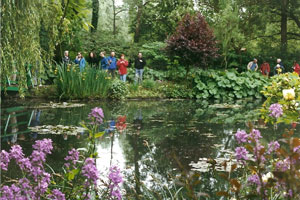 "The Monet's Garden visit was fantastic."
"I loved the trip on a boat down the Seine in Paris."
"The French certainly know how to party. We had such a good time last time that I can't wait to go back."
"When your French hostess produces a delicious meal and her husband produces fine wines somehow the language difference disappears: we all make ourselves understood and have a marvellous weekend."
"Such amazing hospitality: our weekend in France included a barbeque, an evening's dance and a trip to a magical château with Impressionist paintings."
"I always enjoy visiting Champagne to meet up again with the many friends I have made there over the years."
French Visits to Welwyn
There is no obligation to offer accommodation to the French visitors, unless members would like to. However, great friendships have grown over the years of exchanges and reciprocal hospitality, and both organisations have gained much from them. A knowledge of French is far from being a prerequisite but it can be an ideal opportunity to practice language skills, to let children develop new friendships with their French counterparts and, when visiting France, to get a taste of real life in a French village – an experience not usually encountered by the ordinary tourist on holiday.